【Weekdays only】 ♪ on birthday and anniversary ♪ 3H All you can drink & with dessert plate ★ Anniversary course 2900 yen (tax excluded)
Course details
【Weekdays only】 ♪ on birthday and anniversary ♪ 3H All you can drink & with dessert plate ★ Anniversary course 2900 yen (tax excluded)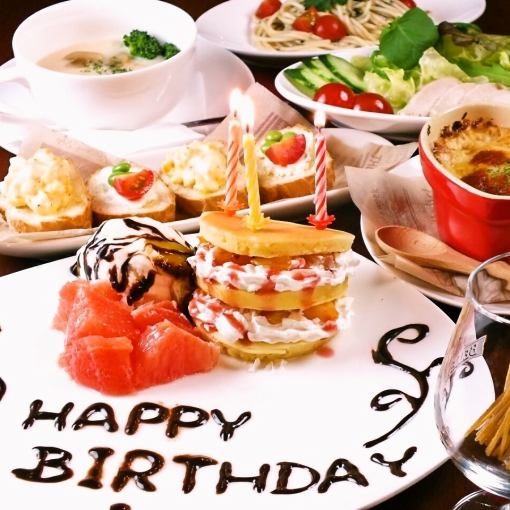 By using a coupon2900 yen
+ 500 yen for men use OK ※ excluding tax
All-you-can-drink available

All you can drink fruit jar cocktail at + 500 yen
Reservation deadline

Until 16 o'clock on the day of visit to the store
Available days for reservation

Monday - Thurs, Sundays, Holidays
Celebrate the protagonist with a surprise ♪ Let's celebrate with you everyone ★ ※ Friday and Sunday Holiday day, the all-you-can-drink becomes 2 hours.On weekends at +1000 yen, you can also drink all-you-can-eat three hours on the day before holidays ♪
Course menu
~ 2900 yen anniversary course ~
1. Pasta frit
2. French bread de Canapée
3. Salad
4. Soup of crunchy pie
5. American Doria
6. Today's pasta
7. Dessert plate
※ Surprise presentation available
※ The use of men is also OK at + 500 yen ♪
When coming to the store, you can stream slideshows and movies to your favorite BGM or in-store monitor as a surprise production for the leading role.
If you have data of your desired music, photos, movies, please contact us and provide us in advance.
If you would like to confirm details, please call us directly or contact the following URL to contact us.
Contact URL → https: //line.me/R/ti/p/%40qfy9800v
All-you-can-drink menu
·Highball
· Horn balls
·beer
· The Premium Malts / Asahi Super Dry
· Shochu
· Fluffy Mirror (Yuzu · Acerola · Ume) 【Rock · Soda split】 / Iki gold 【wheat】 / Black Kirishima 【potatoes】
· Sangria (red · white)
· Rock / Sangria Sparkling / Orange Sangria / Grapefruit Sangria / Tomato Sangria
· Wine (red · white)
· Carlos Ross / Rossi Rock
·Cocktail
· Cassis (Soda · Orange · Grapefruit · Milk · Tea) / Gin (Tonic · Back) / Orange Blossom / Vodka Tonic / Moscow Commander / Screwdriver / Bulldog / Fuzzy Navble / Peach (Oolong · Milk · Ginger) / Malibu (Pine · Cola · Orange) / Passoa (Soda · Orange · Grapefruit)
·Cocktail
· Mango Yang (Orange · Milk) / Kalua (Soda · Orange · Milk) / Kalua Moca Milk / Kiel / Kitty
· Makgeoli
· Seoul Makgeoli
·Plum wine
· Nishi Koyo plum wine from Kishu / Brown sugar plum wine from Okinawa / Yuzu plum wine from Tokushima
· Fruit juice sour
· Lemon Sour / Grapefruit Sour / Lime Sour / Big Peak Sour / Blue Apple Sour / Calpis Sour
·Non-alcoholic
· All-free / non-alcoholic plum wine (rock · soda diving)
·Soft drink
· Oolong tea / Ginger ale / Orange juice / Tomato juice / Grapefruit juice
· Fruit Jar Cocktail
· Raw casio leaf / raw fuzzy navel / raw Casial Orange / raw casual grapefruit / raw orange sangria (red · white)
Coupons that can be used with this course
2018/12/07 update